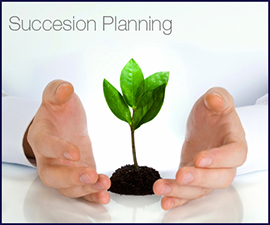 Succession Planning
Succession planning is important at every stage of business ownership.  In the early stages, it might take the form of a will, a life insurance trust, instructions for employees and / or family members, grooming of a successor manager, and maybe a buy-sell agreement.  In the later stages of ownership, it might take the form of financial and retirement planning, planning for a sale or other transfer of the business, estate and income tax planning, the implementation of a management succession plan, etc.  Succession planning has to be responsive to the individual needs of the business owner, and it has to be done.
The succession plan includes:
A business valuation
Business value planning
Estate planning and estate tax planning
A responsive will
Income tax planning
Financial planning
Retirement planning
A review for the appropriateness of non-competition agreements
A review of life insurance needs
Construction of a framework for transfer – sale, gift or bequest
Identification of a successor
A management succession plan
Planning for an efficient and effective transition
The succession of your business is going to happen.  It is going to be done by someone; your wife, your children, an employee, or a competitor, but make no mistake about it, it is going to be done.  It just won't be done the way that you want it to be done unless you plan for it.
Pierce CFO has the experience and knowledge to guide you through the decisions that are required to ensure a successful succession and a comfortable retirement.  Whether you plan to transfer your business to an employee, a family member or in an arm's length sale to an independent or corporate buyer…  Trust your succession planning to Pierce CFO.